Horace Tapscott, Tom Albach and the Story of Nimbus West Records Part 2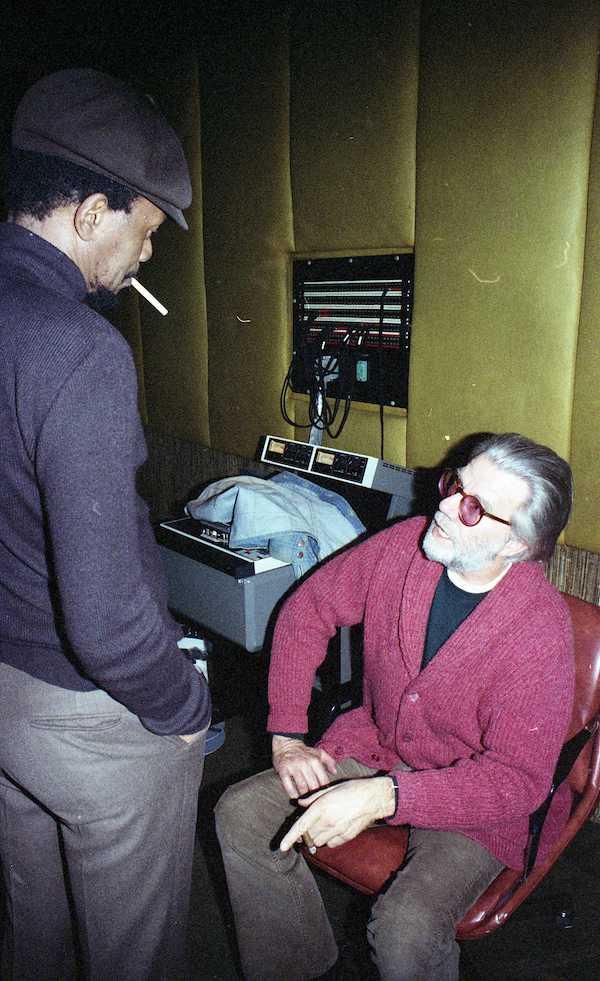 Albach (1925-2020), grew up in Kansas but moved to L.A. after serving in World War II. A jazz fan back in Kansas from a young age, he began hanging out on the Central Avenue scene and heard Charlie Parker, Lester Young, Charles Mingus and most of the bop musicians. A Miles Davis "second great quintet" club date, at some time in the 1960s, he always said, was one of the most memorable musical experiences of his life. Albach's taste in jazz was impeccable. He bought many of the Blue Note classics, Jackie McLean being a particular favorite, and he was a fan of such then controversial musicians as John Coltrane and Eric Dolphy.
Albach was a very opinionated and political man of far left-wing views who had attended SDS meetings in the 60s and never wavered in his beliefs, unabashedly proclaiming himself "a communist" when he was in his nineties. Not surprisingly, his opinions on music were shaped by his political views. "The harshness of this system we have. I can't think of one artist that is really in a creative posture that is dealing with this thing in a business sense at the same time. I think it has diluted and adulterated the music of all the really fine and established players." He had total withering contempt for "this mindless consumerism, the money that everybody is into, that has resulted in an unbelievable debasement of the taste of people" and the musicians who had compromised their integrity by playing commercial music and the "retarded society" that rewarded them. Any commercial activity was "poisonous," "immeasurably, if you're really a serious creative musician." He referred to smooth jazz as "background music for porno movies." Los Angeles was "a gigantic feed lot for corporate America, the mass culture equivalent of the Roman vomitoriums." Los Angeles residents, aka "Angelenos" he called "Thorazinos." For him, Jazz had become so thoroughly corrupted by rock music influences that even musicians of the stature of McCoy Tyner and Freddie Hubbard had sold out.
The Arkestra in concert at the Century City Playhouse, sometime in 1977, was the first time Albach heard the band. Later, he said he couldn't get the music out of his mind, and shortly after, he bought from Tapscott some private cassette tapes of the Arkestra. He would go for hikes in the hills above Ojai and play the tapes and on one momentous occasion after "putting myself in a musically receptive state, it became more and more apparent to me that he (Tapscott) was a major figure in American music and that with his pride and integrity and the insistence of the money and the record business for artists who will ingratiate themselves to that disease, I knew he would never be recorded and I should start a record company."
The Arkestra had never released a recording in the sixteen years of its existence. No record company would record an unknown twenty-five piece band, especially one as political as the Arkestra and Tapscott never had money to start his own label to issue a recording. A "handshake" deal was made and Albach started Nimbus West for the sole purpose of recording Tapscott and the Arkestra (Originally, he named the label "Nimbus." In the 1990s, the British "Nimbus" label objected, necessitating the addition of "West").
He later further explained his motivation. It was "a great opportunity to try to pay back the music for the pleasure it has given me since I was a little kid." Undoubtedly, he also saw it as a statement of political belief and a protest against jazz commercialism and the "retarded society." Also, "it takes one to know one," and he recognized in Tapscott a kindred spirit, a man of unwavering integrity that shared his critique of American society.
Tapscott, for his part wrote, "Tom was always real strong in his beliefs and that would get him into trouble sometimes. But I like that he was always up front about everything. It got to the point where the cats began to trust him and looked forward to his being there. He said what he had to say and got the respect of everybody: came and told his story." He probably also was comfortable with Albach because he wasn't a music biz operator, but a political radical and not a college educated theoretician, but a streetwise guy. Albach was well over six feet tall, physically intimidating, talked like a tough guy, and was a successful professional gambler with money to spend.
He spent plenty of it. All the musicians were paid fairly. In his autobiography, Tapscott wrote, "he rented the best equipment for us and brought in some new pianos…. and took care of a lot of the cats, helped the ones who needed it to get back on their feet. If someone in the band was in trouble, he was there. He'd help cats with jail trouble or help them keep their pad, their car. Tom became a household word and all those guys never forgot that."
In April 1978, Albach recorded the Arkestra at United Western Recorders, the premier independent studio in L.A., where some of the most iconic Beach Boys tracks were made. He obviously wasn't worried about the budget. The result was two albums, Flight 17 and The Call , which were released with "UGMAA" and "Distributed By Nimbus Recording Co." on the labels. The recording quality is quite good and the studio setting smooths some of the rawness of the band but also tones down some of the wildness and excitement evident on the Live at I.U.C.C. album.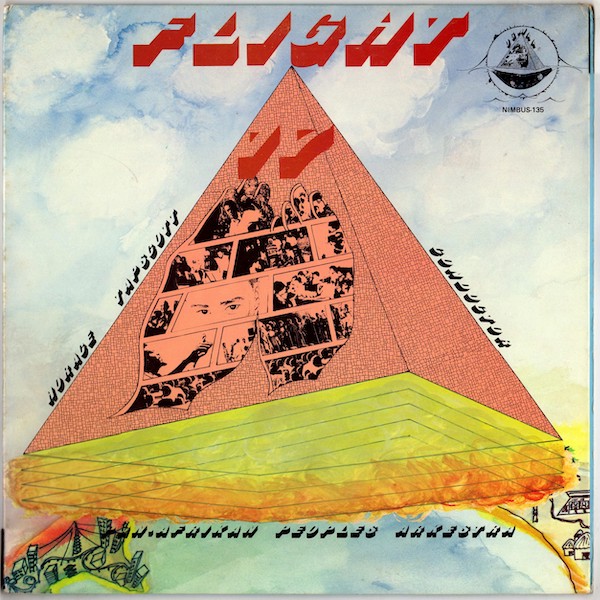 "Flight 17" begins with a long piano solo before the basses and flute play a simple repetitive rhythm figure for the rest of the sixteen minute tune, while the horns collectively and freely improvise. The piece was written by Herbert Baker, a pianist/composer from South Central who at age 17 died tragically in an auto crash. It's an astonishingly mature work and one of this Arkestra's pieces that is most like the Sun Ra Arkestra. "Breeze" is a short Baker composition for Tapscott and the strings and has the feel of Bartok or Prokofiev's writing. "Horacio" by bassist Roberto Miranda is a bright, folkish melody that hints at salsa music and is played swinging and uptempo. "Clarisse," a Jesse Sharps piece, alternates between ballad feel and uptempo. The ballad melody is reminiscent of a Coltrane tune—"After The Rain?" "Maui" is a medium uptempo piece with a funky bass line played on tuba by the legendary Red Callender, charter member of the Wrecking Crew and bass teacher of Charles Mingus. It's a difficult arrangement that goes through several moods and is very well played. Jesse Sharps takes a superb soprano sax solo over flutes playing behind him, another instance of Tapscott's creative arranging.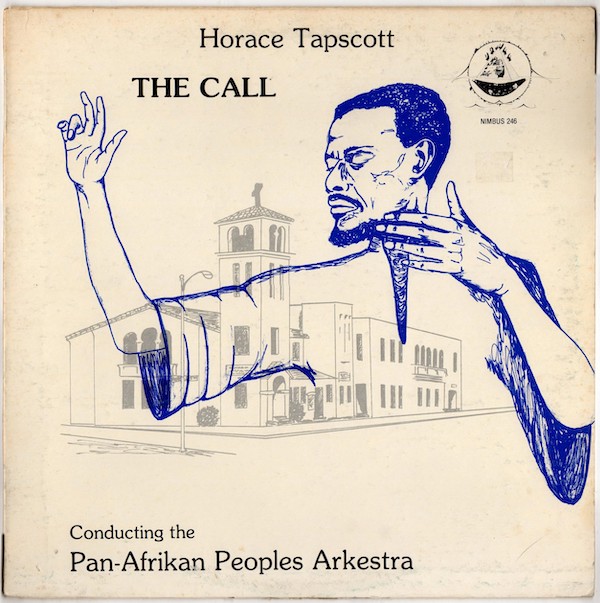 Lester Robertson's "The Call" is an exciting bop tune with a great arrangement and is about as close to the conventional big band sound as the Arkestra ever got. "Quagmire Manor at Five A.M.," a tribute to the house where some of the band members lived, has some Sun Ra style lyrics sung by Adele Sebastian before the composer, Michael Sessions plays a very intense and free alto solo with Ayler-ish rhythmic freedom. He is another player from the Arkestra that we should have heard more from. "Nakatini Suite" (also recorded by Lee Morgan) was written by the legendary jazz composer Cal Massey and is played in a great arrangement by Tapscott that features strings. They play with such jazz feeling that they must have been Arkestra members and not studio musicians. "Peyote Song No III," another beautiful Jesse Sharps melody, has the same exotic-hypnotic feel of "Desert Fairy Princess." Sharps plays a long soprano sax solo that shows his personal sound and command of the difficult instrument. The song has another beautiful string arrangement and a fabulous bass solo. Tapscott's piano solos throughout the albums are masterful, a hard swinging history lesson in jazz piano from Bud Powell to Cecil Taylor.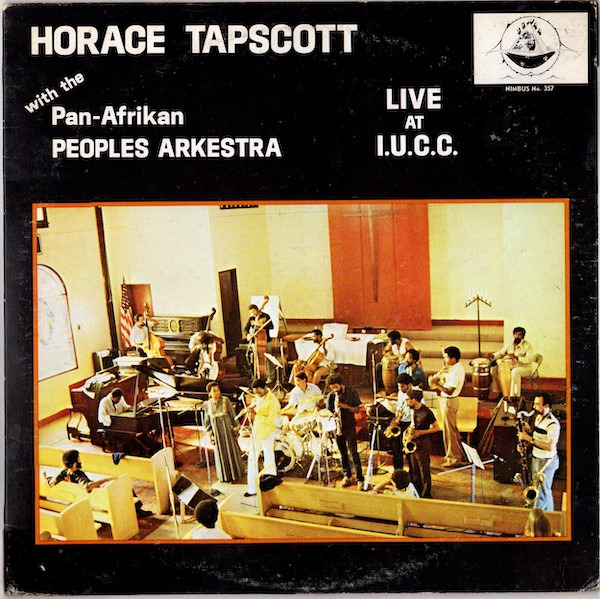 After the studio records Albach recorded thirteen Arkestra concerts at the I.U.C.C. from January 1979 to April 1980. Nimbus West in 1979 released a double album, Live at I.U.C.C. consisting of tracks recorded over a five month period from February to June 1979. The liner notes apologized for the variable sound quality and promised that the sound on the next double album to be released in spring 1980 would be "first rate." Unfortunately, Volume 2 was never released.
The sound, while not audiophile quality, is acceptable and no apology was needed. Most importantly, the excellent music —a classic album in a style that is usually categorized as "spiritual jazz," a term so vague as to be almost meaningless and that has come to serve more as an indicator of the cover art, and the appearance of the musicians than as a description of the music. I would suggest as a more precise description "modal jazz with free elements" in the style of Pharoah Sanders' 70s Impulse albums and McCoy Tyner's first few Milestone albums, especially Sahara ."
It has been suggested by some that Tapscott founded The Pan Afrikan Peoples Arkestra as an L.A. version of the Sun Ra Arkestra. Tapscott denied this and wrote, "Of course, I was aware of Sun Ra's Arkestra, always respected what he was doing, and got my spelling of the name from him, but that was as far as the hookup went. While he was thinking in terms of space, of an ark traveling through space, I was thinking in terms of a cultural safe house for the music." While the similarities of an avant garde free jazz big band with a long-time core group of musicians, led by a charismatic pianist/composer, are obvious, the groups were musically different. Sun Ra's Arkestra was unique in its theatricality, radical innovation, incorporation of electronic keyboards and synthesizers and diverse influences from atonality to disco. It was a band traveling through space. By the late 70s, it was a band that toured the world, playing predominantly for white audiences. Tapscott's Arkestra was compositionally less adventurous, less avant garde, more groove based and intimately bound to its audience in Black L.A. It was a band playing in the cultural safe house.
The Arkestra at the I.U.C.C. has its own warm, thick, deep, soulful sonority that is like the sound of the great gospel singer Mahalia Jackson. Tapscott never favored trumpets and the only brass instruments are one trombone and occasional tuba. Without the metallic brightness of trumpets, the music seems more African, more like a chorus of voices. Tapscott loved voices and frequently a large choir, The Great Voice of UGMAA, appeared with the Arkestra.
When it plays the melodies the band has an appealing looseness but it is in tune, and fiery. The soloists are excellent, especially Jesse Sharps on soprano sax and Sabir Mateen on tenor sax (both of whom are still playing and should be much better known) and of course, Tapscott who proves himself to be a very good big band pianist. The tunes are memorable and "Village Dance" by Mateen would have been a standout classic even in the Sun Ra band book. Its rhythm groove is infectious. Reportedly, Albach, near the end of his life and using a walker, would get his morning exercise by dancing to this tune. The version here is twenty-six minutes long and it ends too soon. "L.T.T." written by Tapscott is a pretty, but with an edge, free bop tune, somewhat in the style of Eric Dolphy's Out To Lunch compositions. It's an indication of the communal nature of the band that it is Tapscott's only tune on the album. "Desert Fairy Princess" by Jesse Sharps is beautiful and mesmerizing with gorgeous flute playing by Adele Sebastian. This version was recently included on an afro-centric jazz comp and the tune was covered by vocalist Dwight Trible. It should be a jazz standard.
Albach released these three albums by the Arkestra and then concentrated on recording Tapscott and albums featuring some of the musicians in the Arkestra. He recorded Tapscott in duo, trio and sextet formats and solo. The solo recordings were regarded by Albach as his greatest accomplishment. As he well knew, they were an especially foolish business decision. Solo piano albums, even by name artists are a notoriously hard sell, but when the pianist is unknown, playing mostly original music, it's all but impossible. But he did it anyway. Between the years 1982-1985, whenever Tapscott felt ready, Albach hired a professional engineer, crew and sound truck to record him at the Lobero Theatre playing solo, usually between 2 and 4 am when auto traffic was minimal. It was an especially good sounding room with a piano that Tapscott liked.
Though Tapscott was paid handsomely for each recording session no commercial restrictions were imposed. He was encouraged to play any compositions and in any manner he chose. The result was thirty-four hours of recordings, roughly divided 70/30 between Tapscott originals and standards/jazz tunes. I think it's safe to say that no other jazz pianist has ever been so extensively documented playing solo. Even Norman Granz's 13-record Art Tatum set seems paltry in comparison. Albach issue on LP seven volumes from the Lobero recordings and four more on CD. Unfortunately, his plan to issue fifteen volumes and make the additional twenty hours available for download never came to fruition.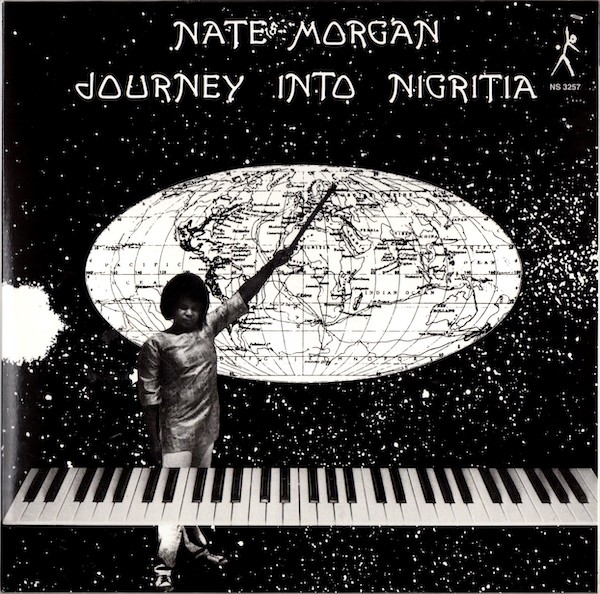 From 1980 until as late as 2010 Albach also released about fifteen albums by Arkestra members and Tapscott associates. The Desert Fairy Princess album by Adele Sebastian, who in 1983 was to die tragically at twenty-seven from kidney failure, is a gorgeous, melodic album featuring Billy Higgins on drums. With some promotion and better distribution, it could have been a late night jazz radio "hit." It was one of the few Nimbus West releases to sell out the original press run "back in the day." Journey Into Nigritia from 1983 by pianist Nate Morgan (1953-2013), is another chapter in the Nimbus West "shoulda, woulda, coulda" story. A very fine pianist, definitely influenced heavily by McCoy Tyner, but lacking Tyner's superhuman technique and power, Journey features his excellent compositions and the rather wild, but exciting alto saxophonist Dadisi Komolafe. The album, especially Morgan's Cecil Taylor tribute, "Study In C.T." was just too adventurous, the production too rough and the cover too amateurish and just plain odd, for it to get airplay or sell in stores. Pianist/vocalist Linda Hill (?-1987) was one of the original Arkestra members and in the earliest days the band rehearsed at her house. Her album Lullaby For Linda from 1981 showcases her dark, attractive voice and Monk/McCoy pianism. It's an enjoyable album with Adele Sebastian sharing vocals and, as always, playing flute beautifully. Sabir Mateen, who in Albach's words, "never said much, but always came to play and blew his ass off," blows some intense tenor solos, even showing on the title track some bop chops. There are only four tracks on the forty-six minute album and one, the eleven minute "Children," starts interestingly with African percussion rhythms, chanting and improvised vocals, then over a bass groove Hill and Sebastian sing and jazzrap together, sometimes amusingly, for eight plus minutes on the subject of children. In a live show with a family audience, it probably would have been a crowd pleaser but on an album, it becomes a bit tedious.
In May 1985, Albach's recording activities with Tapscott and the Arkestra members ended, not because he was losing interest or discouraged by lack of sales, but because he was running low on money and was planning a move to Europe.
In an interview at about this time, Albach said of Nimbus West, "financially, it's a disaster." There can be no doubt he was speaking the truth. The amount of money he spent on the label can only be speculated, but multiply recording costs, mixing, mastering, musician costs and pressing costs by 35 and add the costs of 20-30 unissued sessions, and it's an enormous sum. The return on his investment was almost non-existent. The initial press runs of the LPs he issued were either 500 or 1000 and almost all did not sell out for twenty or more years. Some of them have not sold out to this day.
The reasons for the financial disaster of Nimbus West are so many that the label's commercial failure was all but a foregone conclusion. The primary reason was that to Albach, the label was not a business but rather a passionate statement of political belief and he intended it to be a model for what society could be like if the profit motive was eliminated. He never expected or wanted to make money. The mechanics of making money in the record business—signing up distributors, negotiating with them, collecting invoices, keeping productions costs to the minimum were all but ignored by him.
The music he chose to record was another factor in the label's failure. In 1978 when he started recording in L.A., the Arkestra's music was already at least six years out of fashion. Afro-centric, modal jazz never had a large audience and was always an "underground" music even in its 1966-1972 heyday. By 1978, the audience had dwindled to a miniscule size and Pharoah Sanders, the most high profile "spiritual jazz" musician, signed a contract with Arista, a mainstream label, and moved in a pop/R&B direction. The late 70s was a time when the jazz audience was turning away from the free and avant garde sounds of the 60s and back to 50s hard bop and was buying the plethora of classic reissues. Dexter Gordon had returned to America to much media fanfare and just over the horizon in 1982 was Wynton Marsalis' first album and all the hard bopping young men in suits.
Also, the musicians Alabch recorded were unknowns and it's not easy to sell jazz records even by well known "names." The major labels with all their promotional resources didn't try selling jazz records by complete unknowns. Tapscott, Albach's "star," while well known in South Central, had only made one obscure record, never toured, and was all but unknown to the jazz audience. Usually, jazz musicians establish a career and sell records by working upwards through the sideman system to leader status and then touring and playing clubs incessantly. The Nimbus West roster was made up of musicians that had not done this. They were based in the community and their loyalty was to it.
Typically, Albach thought the system was to blame. "I did a lot of suffering and went through a lot of frustration with the lack of acceptance of some of these recordings that I knew were good. I attribute it to the dishonesty that is rampant throughout the writers in the publication industry. Most of the publications are corrupt. They simply exist like Downbeat and Jazz Times for no other reason than as vehicles for the junk that's ground out by the corporations."
While his criticism might have some merit, Albach's refusal to schmooze, glad hand, and play the send promos, buy ads, network at industry conferences game, ensured that Nimbus West got almost no reviews or attention in the mainstream jazz media. Also, being based in L.A. was a severe hindrance. New York was where jazz reputations and careers were made, not L.A. Albach complained, "The writers and the critics, especially the well-known ones in the east, have such a tourniquet on their head as far as their conception of music. If it's from the west coast, it's suspect to begin with." East coast jazz writers had been harshly critical of fifties era west coast jazz and he was probably right that the attitude lingered.
It's also true that he did little or no radio station promotion. The records were not typical jazz radio program fare but sending promo copies to adventurous DJs and Black culture programs might have garnered some airplay. With no significant radio play and no advertising, the only way to sell records was by live gigs and word of mouth, but the artists did not tour or play outside southern California.
Then there were the album covers. It's an axiom in the record business that an attractive, fashionable cover helps to sell an album. Albach had money to spend and could have hired graphic designers to produce those kinds of covers, but it was probably his determined anti-commercialism "no record biz glitz for my label" that made him choose a cover style that wouldn't sell records. Most had a black and white photo of the artist, generic typefaces, and political statements on the back. The Nimbus West covers today have the look that says "spiritual jazz," but in the 80's the covers announced "We are an amateur, low budget record company, putting out weird music." The few albums that made it to stores were certainly not impulse buys. Most Nimbus West sales probably were off the bandstand after the gig when the covers didn't matter.
Albach moved to Europe, settling in Amsterdam in 1988 or 1989. The communal nature of the music scene there reminded him of South Central, L.A. "Nimbus East" was the result and he recorded about ten CDs of avant garde jazz, mostly by Dutch musicians. Needless to say the music was in a very different style than his L.A. recordings.
Albach returned to the U.S. in 1995. He allowed Nimbus West to lie dormant until the late 1990s when he reissued a few titles and issued on CD several albums that were "in the can" including volumes 8-11 of the Tapscott solos. In the 2010s, there were some more CD reissues and on 2 CDs the first issue of a live Tapscott recording, Lighthouse '79, , but the label was all but defunct and understandably so, since it was a one man operation being run by a man of eighty-five plus years.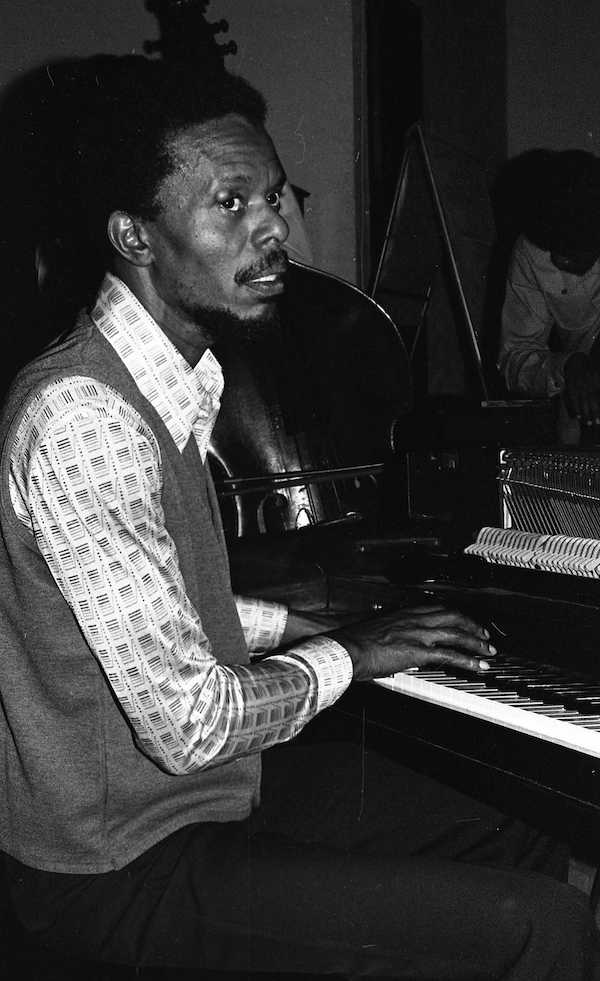 In a Japanese book,
The Spiritual Jazz Labels
, Matt Whitehurst, a record collector, especially of avant garde and free jazz, found a listing and photos of the Nimbus West records. He began searching for them and in 2014, he contacted Tom Albach to find out if any of the records were still available. He purchased some records and the two became friendly, talking frequently on the telephone. In early 2019 Whitehurst visited Albach at his home in Albuquerque, NM. They listened to and discussed the Nimbus West archive of unreleased tapes, and Albach expressed regret that he had not completed the job he had set out to do and never would because of his health and advanced age. Then he asked Whitehurst if he would move to Albuquerque to help him work on the label and "finish the job of completing his vision." Whitehurst agreed and a few weeks later he was living in Albuquerque.
For the next year and nine months, they met nearly every day to listen to the hundred plus hours of unreleased tapes and plan a release schedule and the future of the label. In November 2020, Albach passed away and bequeathed Nimbus West to Matt Whitehurst.
Whitehurst takes very seriously the responsibility that Albach left him. "Hopefully, we (Tom and I) will be able to get it all out. It is important that Tom's legacy be presented in the best quality possible. Also, to see the legacy of these musicians realized and presented finally. I think about Adele Sebastian, Linda Hill, and Horace. They're not here."
The revitalized Nimbus West released in 2020, Live At Century City Playhouse 9/9/79 , a three LP set of a previously unreleased Arkestra concert. It's a beautiful production. The gatefold cover is bright and glossy on heavy stock with some evocative black and white photos. Inside the gatefold are liner notes by Mark Weber who was on the scene and knew the musicians and what the music was about. In accordance with Whitehurst's principle, "if it's analog, keep it all analog," Salt Mastering's Paul Gold mastered directly from the original master tapes. The recording was made with a non pro Revox, probably using three mikes. The soundstage is wide, dynamics are good and imaging is excellent. During solos, members of the band can be heard shouting encouragement and they are clearly behind the soloists and the voices separate. Some tape hiss can be heard on the records during quiet passages but it's not intrusive. The pressings are very good, quiet and flat. Because it was decided at the last minute, to issue the entire concert on three LPs instead of only part of it on two, it's a double pocket sleeve. Gotta Groove Records in Cleveland OH pressed the records and outsourced the printing of the covers.
The music is the typical Arkestra mix of fire and beauty. "Desert Fairy Princess" is missing but the rest of the Arkestra "hits" are here; "Village Dance," "Leland's Song," "Noissesprhas," and "Listen My Children." Sabir Mateen's "Noissesprahs" features his long, raging, shrieking, blowout tenor solo with pounding, rhythmic piano accompaniment (Linda Hill?). When the solo ends, the audience and the band erupt in applause. "Jitterbug Waltz," yes, the Fats Waller Tune, opens with an amazing Tapscott piano solo which mixes Monk, Cecil Taylor, and his own unique rhythmic sense, before the band comes in playing very fast waltz time with congas and a semi-funk beat. It's a humorous and creative arrangement of a tune that has been done thousands of times. Adele Sebastian plays a flute solo, melodic and singable, as always. The other horns solo and everybody seems to be having fun. "Village Dance" is intense, frantic and rocking with shouting exhortations (Linda Hill?) over a deep "in the cosmic pocket" bass groove.
The initial press run of 700 copies sold out quickly. Whitehurst plans a repress of another 500 in March 2022. The second press will have different photos inside the gatefold to distinguish it from the first. Obviously, a record collector is in charge here.
The schedule of releases that he and Albach agreed upon is exciting and ambitious. Planned for January 2022 are Jesse Sharps Sharps and Flats on LP for the first time and cut from the half inch master tape. (The CD was mastered from a DAT copy) and Tapscott + Winds which pairs the pianist with flute and soprano sax (I heard a digital file of the album and the music was lovely). Both will be issued on LP only and mastered all analog by Kevin Gray. Whitehurst states that he will not be releasing CDs or downloads of any issue.
On the schedule for June 2022, are an unreleased Nate Morgan album and an album by Aubrey Hart. Later in 2022, tentatively, a Horace Tapscott Trio live at Century City Playhouse double LP will be released.
Other planned future releases are: a Tapscott/Nate Morgan piano duo album, a Tapscott Trio with Roberto Miranda and Alex Cline, Tapscott Live at the Lobero Volume 3 , Tapscott Live at the Lighthouse on four LPs, Volumes 8 to 15 of the Tapscott solos and finally, after forty-one plus years of waiting, the Arkestra Live At I.U.C.C. Volume 2 .
According to Whitehurst, there are twenty to thirty unreleased LPs in the Nimbus West archive to be mined. Among them are three Nate Morgan albums, two of them being live doubles. There are also many hours of the Arkestra live at the I.U.C.C. to be considered for possible release.
After the issue of a substantial amount of the unreleased material, Whitehurst plans to initiate a reissue program beginning with the Creative Arts Ensemble One Step Out and the Nate Morgan Journey Into Nigritia LP, to be done all analog from the master tapes. He stated that all the reissues of these albums available currently were mastered from the Nimbus West CD issues.
Of the reissues on the market at present, Whitehurst recommends the ones from Pure Pleasure. They are fully licensed and the records mastered by Kevin Gray use the master tapes. The other Nimbus West LPs in their catalog, not mastered by Kevin Gray, are sourced from CDs. Any other companies reissuing Nimbus West LPs, Whitehurst says do not have access to any tapes and "They are no representation of Nimbus."
After his Nimbus West years, Horace Tapscott went on to make a few CDs for European and Japanese labels and toured frequently in Europe playing the club and festival circuit with small groups, usually made up of Arkestra members. He died in 1999. Approximately, three hundred musicians have been part of the Arkestra, including David Murray, Azar Lawrence, Butch Morris, Wilbur Morris, Steve Turre, Ndugu Chancler, and Henry Franklin. For many of the musicians, the Arkestra became the focus of their life. The Arkestra continues playing to this day and runs the Dark Tree label, which recently issued, in conjunction with Sam Records, Why Don't You Listen, Live At LACMA 1998 , a live LP by Tapscott and the Arkestra and the Great Voice of UGMAA, which is highly recommended.
So, we have come to the end of this story, but fortunately, not to the end of the Nimbus West story.
Photos of musicians by Mark Weber and used with permission of Nimbus West.
All rights reserved by Joseph W. Washek
Copyright 2021

SPONSORED VIDEO
<!- ------------------------------------>