Ian Hunter May No Longer Be a Young Dude, But He Proves How Hard He Can Still Rock on Vinyl With a Little Help From His Friends on a Killer New Solo LP, Defiance Part 1
Ian Hunter is a survivor. Not only that, but the veteran British vocalist of Mott the Hoople fame and a lengthy and fruitful solo career shows no signs of slowing down at age 83. The keen evidence laid out before us are the ten balls-out rockers populating his latest solo album, Defiance Part 1, released via Blue Cat/Sun Records (yes, that Sun Records, recently resurrected under the aegis of Primary Wave) on April 21, 2023 on black vinyl.
"I don't think about it, really. I'm just happy to still be doing it," Hunter says almost nonchalantly about his age, and he then he confirms his drive to continue making new music for as long as he feels the muse calls him to do so. Just drop the needle on Defiance Part 1 cuts like the wistful reminiscences of "Bed of Roses," the non-blinking shrugs of "No Hard Feelings," and the direct sneer of "I Hate Hate" for further firsthand evidence.
The production and vinyl stats for Defiance Part 1 are these. The album was produced by Andy York and Ian Hunter, and mixed by James Frazee. There are a number of recording engineers involved since we have no fewer than 24 guest performers on the album, including some of the final recordings from the late Jeff Beck and Taylor Hawkins, respectively, not to mention the likes of Ringo Starr, Billy F Gibbons, Todd Rundgren, and countless others. The lacquer was cut by Joe Nino-Hernes (a.k.a. JN-H) at Sterling Sound Nashville, and the album was manufactured in the Czech Republic (likely GZ Media). The SRP for this 1LP set is $25.99.
Hunter confirms a Part 2 is already in the works with "some of the same guests, and some different ones," and he also hopes the loyal audience he's cultivated over the course of going on seven decades and counting will be along for the ride. "I'm losing all the suburbanites to rap," he says with a chuckle before adding, "I don't know if there's enough of [my fans] left — but hopefully, it'll be okay."
Keep making music like you've done for Defiance Part 1, Ian, and you'll continue to do just fine. In a recent Zoom audio interview, Hunter and I discuss what he means by recording his music "back to front," why Mott the Hoople's version of "All the Young Dudes" endures to this day, and how Jerry Lee Lewis first got his juices a-goin' to become a killer performer and recording artist. I got an F for givin' 'em too much lip / Got an F for being tragically hip / Got an F for squanderin' all them golden years / But why would I wanna be engineered. . .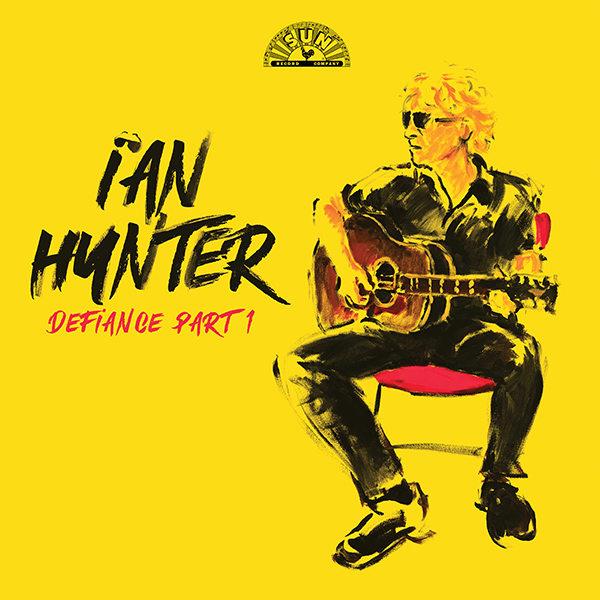 Mike Mettler: In the press materials for the new album, you phrased how you recorded Defiance Part 1 as being done "back to front." Tell me more about what that means in terms of the creative process.
Ian Hunter: Well, I remember doing it years ago with "Once Bitten," since the drummer [Dennis Elliott] was the last one to go on it. And this isn't a bad way of doing it, because the guys get to find out what the song's all about. [For the record: "Once Bitten, Twice Shy" was the big hit single from Hunter's March 1975 self-titled debut solo album, Ian Hunter. "Once Bitten" reached No. 5 on the U.S. Billboard Hot 100, and No. 14 on the UK Singles chart.]
The way we did it this time was because of Covid. We did it in my basement, and then we came 'round with piano, a little keyboard, drums, and other things, and then the vocal. That's how the tracks went out to the musicians.
Andy [York, producer] was a drummer before he was a guitar player, so he's got a direct idea for where the drums would go. And they [the musicians] got the lyrics to work with as well, so now they know what they're dealing with. Normally — well, I remember in the old days, [Mott the Hoople bassist] Pete Watts used to say, "I never knew a word you were talking about," because he was too busy finding the bass part. It's different finding the two and the four when you're doing it live with a band. When you're in the studio, mistakes happen — and that's great too. Either way you do it, it turns out pretty good.
Mettler: We all loved hearing David Bowie's version of "All the Young Dudes," but you can't take anything away from the original Mott the Hoople version he produced in 1972. Why do you think it still endures?
Hunter: Well, it's [Mott lead guitarist] Mick Ralphs' intro, you know? And David — he did it in C, but we took it up to D, and we added that little rap at the end. David was bored with the way he'd done it because he'd done a lot of alto sax on it, as he was an alto player. He just ran out of ideas.
But then, with us, you know, it was a whole different ball game. We used Hammond organ a lot on ours, and it excited him. It was just two nights of recording, and that was it.
[For the record: Mott the Hoople's version of "All the Young Dudes" was released as a single on Columbia in May 1972. Bowie recorded his own version in December 1972 during the Aladdin Sane sessions, but it remained unreleased until it first began appearing on various Bowie compilations starting in the mid/late 1990s.]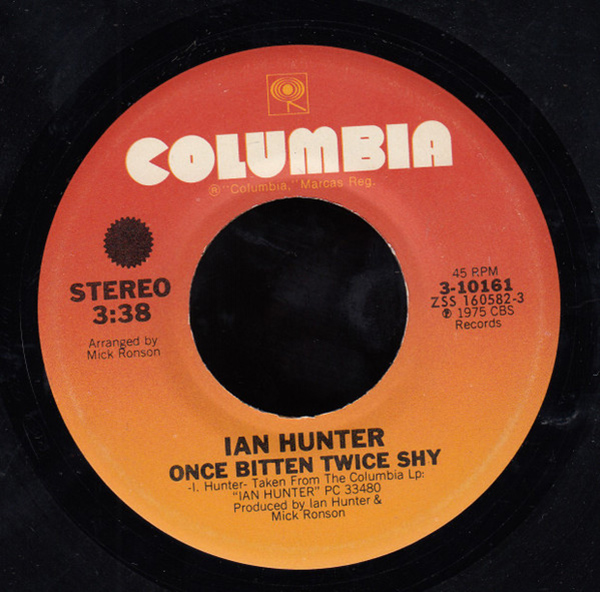 Mettler: Since you mentioned "Once Bitten, Twice Shy," do you feel like that song had more impact because it was recorded back to front, or is it just one of those "capture the magic" type of songs?
Hunter: From the drumming point of view, it was Dennis Elliott, who later played in Foreigner for many years. I remember Dennis sitting there, listening to it as it was coming together, and he did one take. Mick [Ronson, guitarist] said to him, "I wanna roll, in this specific point" — and that was the second take. And that was it, because he knew it all. He knew exactly what he was gonna do before he walked in. It was all there in front of him, like he was in the singer's position.
Mettler: "Once Bitten" is just one of those perfect tracks, so that makes a lot of sense. And I'm glad you can tie it into Defiance Part 1, because I feel that a new song like "Bed of Roses" [Track 2 on Side 1] has that extra magic to it too — not just because it's about the Star-Club [in Hamburg, Germany], but you've also got Ringo ]Starr] on drums and you've got Mike Campbell on guitar there. And boy, what a great group of people to have working around your voice.
Hunter: Yeah. When we were doing it [the basic track] downstairs in my basement, we were both nodding our heads, and it was around 1:17 when I said to Andy, "This is a Ringo song. It just feels like a Ringo song." So we sent it to him, and he was like, "Yeah, if I like it, I'll do it. If I don't like it, I won't." And fortunately, he liked it.
And, man, Mike Campbell — everything he does is an improvement on what's already there, you know? A lot of those guys who are in metal bands just play for themselves. They don't play for the track. Mike's one of those guys like [Mick] Ronson who plays for the song absolutely, you know? Just the tone he has! He's really good at that kind of thing. I was so chuffed, because I know he loves the mix.
Mettler: In this modern age where people have gotten back into the LP universe, do you feel proud that Defiance Part 1 is on vinyl?
Hunter: Oh yeah, it's great! I think my albums come from somewhere in Czechoslovakia — and it was almost like a pregnancy, in a way, because we had to wait to release the album, all because we were waiting on the vinyl. (laughs)
Mettler: We do have to wait a lot more patiently than we used to in order to get the vinyl in hand these days for a lot of releases, I know! (laughs) Now, in terms of sequencing the record, I feel like the story you're telling me here unfolds in a fairly specific order. Was that determined as, "I want five songs on Side 1, and five songs on Side 2"? Were you conscious of how to present it that way?
Hunter: Well, I mean, the less you put on vinyl, the better it is. [The running time of Defiance Part 1 is 49:28.] Plus, it just worked. It did actually work. I worked with [producer] Andy York, and it just flowed that way — and it sounds complete. That's all you can hope for, really.
Mettler: You do make a good point about less is more when it comes to vinyl sides, especially when you think about things like bass content.
Hunter: Yes. And then after you've mixed it, you send it to the guy who will be doing the mastering, and they just have to be more careful.
Mettler: Have you've ever gotten a record back from mastering where you've thought, "That doesn't sound like what I signed off on"?
Hunter: Oh, we did that on this one. Andy sent it back twice. It's hard to find new people to do mastering these days. Most of the guys we've worked with over the years are in their 70s or 80s now, and it's not easy finding somebody new who knows how to do the vinyl.
Mettler: We do need to seek out the next generation of mastering engineers, that's for sure. One thing I love about Defiance Part 1 is the way your many guests get featured on the LP, and how you can instantly recognize them. When Jeff Beck comes in on "No Hard Feelings" [Track 3 on Side 1], you know that's him. When you hear Slash on "Defiance" [Track 1 on Side 1], that's him. When you hear Joe Elliott's background vocals on "Guernica" [Track 1 on Side 2], the character of his voice comes through. If the mixing and mastering wasn't done properly, I'd feel like the character of the players and singers just would not be there — and you clearly wanted that level of presence to be a major part of it.
Hunter: Yes. And they're all gonna be very upset with me if they're not! (both laugh)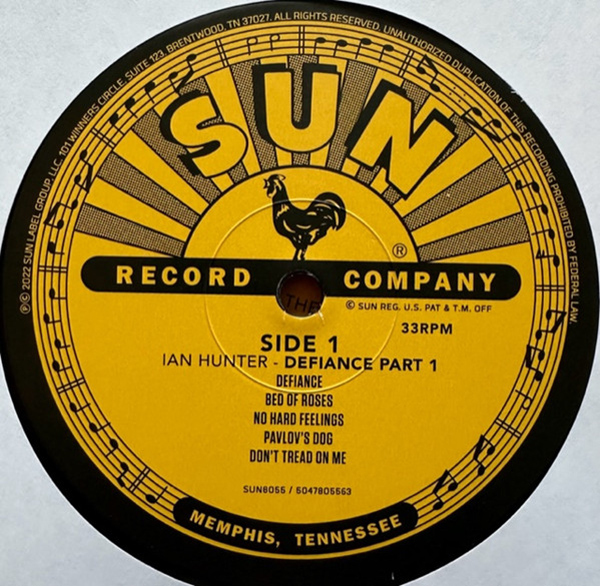 Mettler: You must be pleased that you get to have the Sun Records logo on an actual record you've made. How important is that to you, just in seeing that logo there on the Defiance Part 1 album?
Hunter: That was the whole start for me. I was 18, 19, and had no clue what I was for, you know? I was a factory worker at that point. All of a sudden, Jerry Lee Lewis comes out with "Whole Lotta Shakin' Goin' On" [on Sun Records in April 1957], and that was the one that got me.
I sat with Jimmy Van Eaton recently in Nashville, who was the drummer on that track. It was interesting because they did that song at the end of an R&B session — just for fun. It was a loose kind song that he [Jerry Lee] changed around from what a female blues singer had done with it before. [For the record: Big Maybelle was the artist who first recorded "Whole Lotta Shakin' Goin' On" in March 1955 for OKeh Records, at a session conducted and produced by Quincy Jones.]
What happened was, it was just the two of them left in the studio — just Jimmy and Jerry Lee. Jerry Lee starts with the left hand, and Jimmy likes the sound of that. He comes in on the snare, and at the end of it all, Jerry's all excited: "Yeah, we got a song here! Let's do this song!" And the guy from Sun Studios [likely that session's supervising producer/engineer, Jack Clement], goes, "You've done it. It's done." And that was it. It was just the two of them — and I never knew that. They somehow managed to get a guitar [by Roland Janes] on it later on, but according to Jimmy, it was just the two of them.
[For the record: Jerry Lee Lewis' instantly iconic version of "Whole Lotta Shakin' Goin' On" was released as a 45 on Sun Records in April 1957, and it hit No. 3 on the Billboard Hot 100, No. 1 on both the Country and R&B charts, and No. 8 on the UK singles chart.]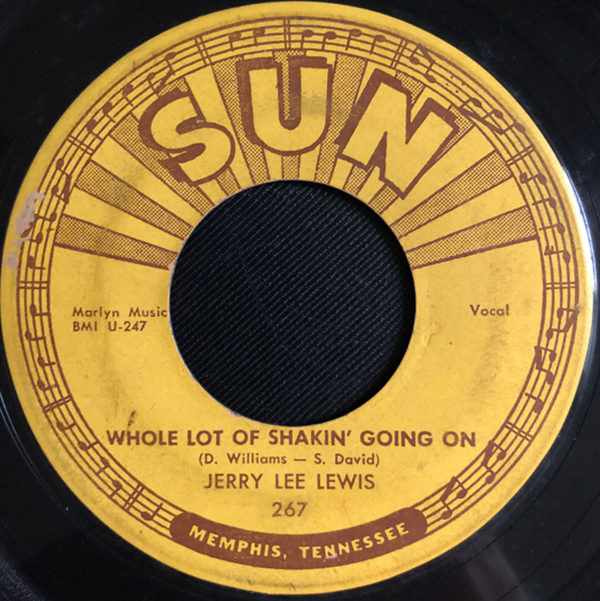 Mettler: Wow. Did you actually buy "Whole Lotta Shakin' Goin' On" as a 45 when it came out? Were you even able to afford any singles in those days?
Hunter: No. You listened on Radio Luxembourg. You couldn't afford to get anything in those days, and you didn't have a stereo. Maybe out of Woolworths, you'd get a little plastic thing that played the singles.
Mettler: Were you buying records as you started getting older? Was that ever a thing for you?
Hunter: Yeah, I guess I did. But I was never as a big record collector as certain other people are, you know? I mean, I've been to [Def Leppard vocalist] Joe Elliott's house, and he's got everything from '68 on!
Mettler: Joe really does have an amazing collection, that's for sure. And I know one of your other Defiance Part 1 collaborators, Johnny Depp [who plays various guitar parts and sings backing vocals on "No Hard Feelings," Track 3 on Side 1] has got like a wall lined with stereos and all sorts of other gear.
Hunter: Yeah, I've seen it! (laughs) But when you work in the ice cream factory, after a while, you just have a go. (laughs heartily)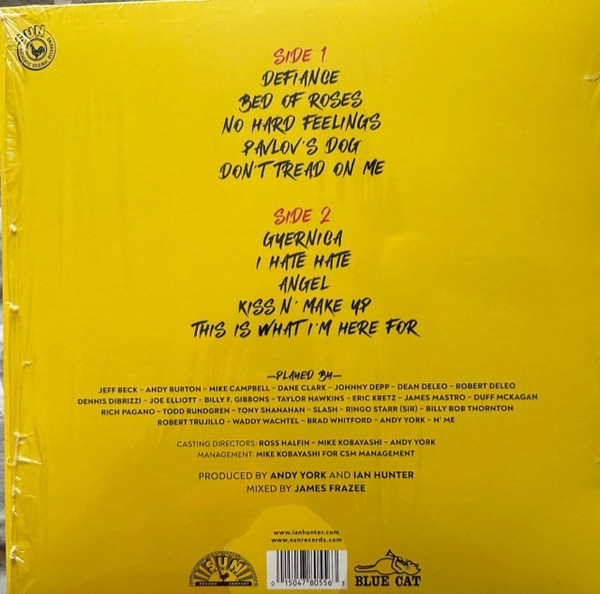 Mettler: If I remember this correctly, you got to see Buddy Holly live, right?
Hunter: Yeah, yeah. It was at De Montfort Hall, Leicester [on March 16, 1958]. I saw a lot of people there. But Buddy Holly [and The Crickets] came on and they were all around one mike, and you couldn't hear much. The drummer [Jerry Allison] just had a snare. You couldn't hear that, and obviously, you couldn't hear [Joe B. Mauldin's] double bass. All you could hear was Buddy — Buddy's voice, and Buddy's guitar playing. And it was like six Fender [amps], which we'd never seen in England. We'd never seen those before — and he had a big, tall amp! People were rushing the stage and kissing his feet. I thought, "He's really good, but I'm not going down there and kissing his feet!" (both laugh)
Mettler: Good call there. Did seeing Buddy Holly ignite your interest in recording and performing, or was there any other thing that made you go, "This is what I wanna do"?
Hunter: It was Jerry Lee Lewis. As far as piano playing goes, I love Leon Russell, but Jerry Lee — the arrogance! I went to see him one night at the Palladium in London. The whole of the first set was an 11-piece country band he had with him at the time — but no Jerry Lee. Then there was a break, and we were like, "Okay. We'll see him in the second half." For the second half, the 11-piece country band comes back out, and it gets to being 20 to 11 [p.m.], and the show finishes at 11. Jerry Lee walks on, covered in red top to bottom, plays four songs, and walks up to the mic and says, "Well, I've done just about as much as a man can do," and walks off. Then I'm in the carpark like, "Why, isn't that great!" (laughs)
Mettler: Jerry Lee was a force of nature unto himself. He was the kind of player who attacked a keyboard. He wasn't really playing it like some people do who caress the keyboard — he physically attacked it.
Hunter: He was exciting. He was very exciting. [Drummer] Jimmy Van Eaton told me that he only played on white notes [i.e., the white keys], and he once got into this session where he was asked to go and play on the black notes. The song was only in the black notes, so Jerry had to go and pretend for the whole session. (chuckles)
Mettler: That's an interesting approach. Do you think about that kind of thing specifically when you're at a keyboard yourself, or do you just play where the chords are for you?
Hunter: I play — the song is in your mind. Yeah. I'll tend to go on and get the key it's in, in the moment it comes.
Mettler: The one pure keyboard kind of track here on Defiance Part 1 is "I Hate Hate" [Track 2 on Side 2], right? Tell me a little bit more about why you wanted that song to have that sonic approach to it.
Hunter: I just think it's one of the best lyrics I ever wrote. It's the kind of thing [John] Lennon would have written years ago. I know how that sounds — and I don't mean to be blasting my own horn here, but it's so simple and direct, that lyric. I'm really proud of that lyric.
Mettler: Well, it's interesting you say that, because when I first heard it, I made a note to myself that it sounded like it was in the Plastic Ono Band style [i.e., what we hear on John Lennon's December 1970 solo album]. It reminded me of songs on that album like "Love" that are very basic and simple on the surface, but the lyrics that John puts forth on it use the exact right words to tell what he needs to tell there. That's what I feel "I Hate Hate" does. You don't need to over-flourish anything.
Hunter: No. It's just to totally direct — and it's not quite the same, since there are little changes in it all the way through. I can't really take much credit for this because stuff comes to you, and you just do it. You're the tube it passes through, you know? You think, "Just when I was gonna do that, now I'm gonna do that."
As a songwriter, it's really interesting, because it's so simple as well. I love a song like [Bob Dylan's legendary 1973 single] "Knockin' on Heaven's Door." I would've loved to write that song because it's so simple, and direct.
Mettler: Artists like Bob Dylan, Keith Richards, and Tom Petty have all spoken about there being an open wave of creativity you have to be ready to receive at any given time, and it sounds like you feel the same way. Like, if you get an inspiration, that's when it's time to do it, right?
Hunter: Your antenna has to be up — and I've learned from bitter experience that you have to get out of bed at 4 in the morning and get it down, because you might remember the thing, but you might not remember the groove.
I forget who came up with it, but some guy recently said the spirits are on one side of the wall, you're on the other side of the wall, and they sling stuff over the wall! (both chuckle) Kind of makes sense in a way, because sometimes you "get" a country song, and it's like, "No, no, you've thrown it to the wrong person!" (laughs again)
Mettler: Yeah. "Sorry, wrong number." (chuckles) Well, since we're running out of time, here's my final question. I want to project ourselves 50 years into the future, so it's now 2073. Unless there's some weird science going on, neither you nor I will probably be physically on the planet in that year. So, however people listen to music then, and they type in the name "Ian Hunter," what do you want a listener in the future to get from your music?
Hunter: Ahh. Probably a sense of what was going on at the time.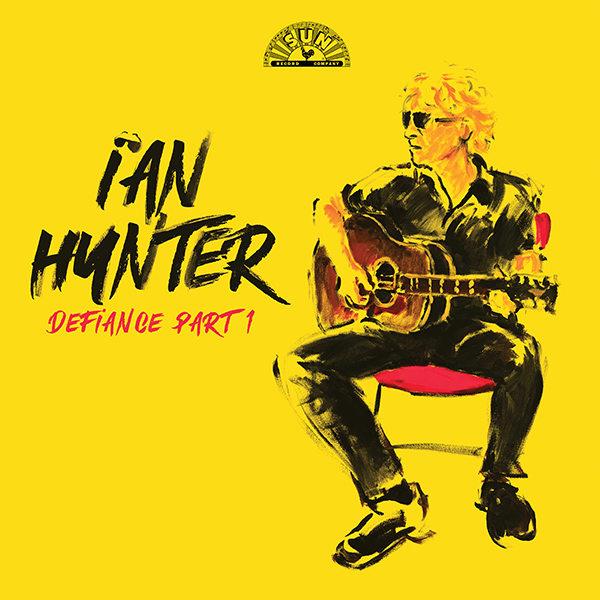 IAN HUNTER
DEFIANCE PART 1
1LP (Blue Cat/Sun Records)

Side 1
1. Defiance
2. Bed Of Roses
3. No Hard Feelings
4. Pavlov's Dog
5. Don't Tread On Me

Side 2
1. Guernica
2. I Hate Hate
3. Angel
4. Kiss N' Make Up
5. This Is What I'm Here For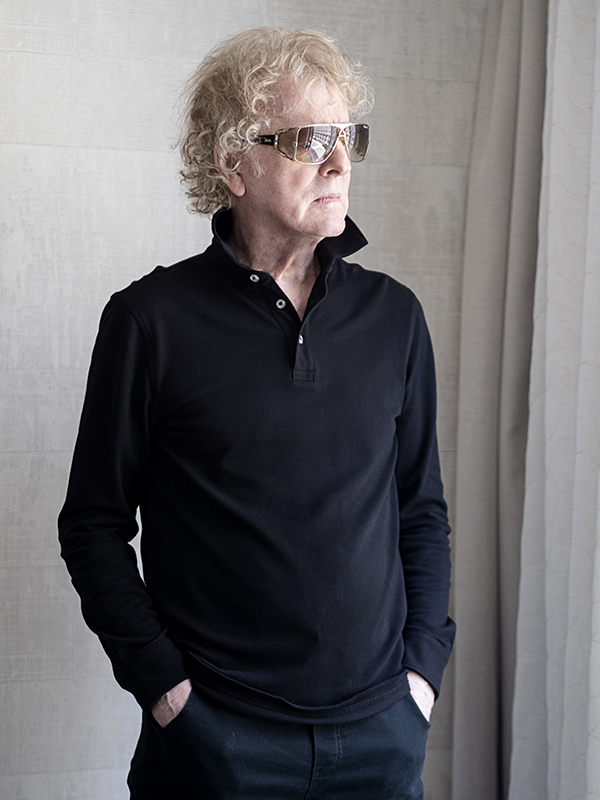 <!- ------------------------------------>