OMA (Oswalds Mill Audio) Debuts K3 Direct Drive Turntable—An AnalogPlanet Exclusive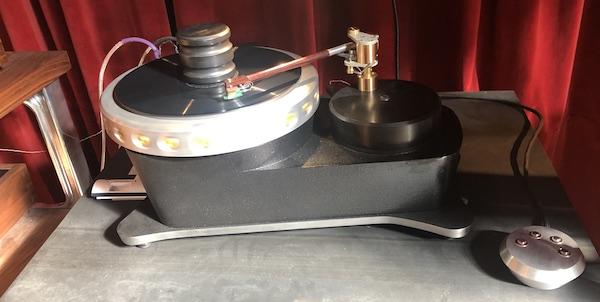 Oswalds Mill Audio
demoed yesterday (Feb. 27th) at its Brooklyn showroom the K3— a brand new, more than 5 years in the planning and manufacturing direct drive turntable that aims to define "state of the turntable art". What you see in the photo is
not
the final finish nor is it the 100% completed physical design.
The design goals include providing "…absolute constant rotational speed under dynamic playing conditions. The motor must be able to dominate the platter since its inertia alone is not enough to maintain constant speed. The motor/platter must work together as an optimized system to hold speed constant."
In addition the design must "provide an absolutely stationary platform supporting the platter and arm. The structure needs to be heavy and grounded via one point only to allow energy to be unambiguously transmitted away from the turntable".
Starting from the foundation, the chassis is a monolithic, self-damping, cast hypo eutectic iron alloy design claimed to be ultra stiff to maintain dimensional integrity under dynamic conditions. The complex casting produced using 3D printing techniques, features internal galleries filled with proprietary damping material consisting of special oil and particulate matter. The high mass chassis, optimized in cooperation with Bucknell University conducted FEA resonance testing, sits upon 3 pointed footers.
The motor, mounted at the chassis bottom to maximize distance to the record surface is a heavily shielded, high torque, 18 pole, slotless, coreless, zero cogging design featuring frameless construction, rare earth magnets and high efficiency coils focused horizontally directed away from the record surface, is intended to produce high rotational stiffness.
A digital controller benefitting from more than 1000 man-hours of R&D programming inputs the motor's three phase sine wave feed to precisely monitor and control its rotational accuracy. Via a USB port the firmware and motor control program can be updated and adjusted remotely. The DC power supply is vacuum tube-based.
The main bearing features a 117mm active length, 25mm diameter stainless steel shaft rotating in an optimized oil film, an inverted thrust bearing with atmospheric pressure maintaining the oil column, and a separate oil bath for the replaceable thermoplastic thrust pad. The rotating mass's center of gravity is slightly below the pivot point for improved stability.
The 14" (355mm) high inertia tri-laminate platter (precise weight not specified but clearly high mass) of aluminum/brass and graphite features internal matrix galleries filled with proprietary damping material and a removable spindle. It also incorporates circumferential felt/oil damping, and as with the chassis, the design underwent Bucknell University FEA and real time resonance testing that aided in the material selection.
Other design features include minimal material count (6) between platter mat surface and arm board surface, and likewise minimum number of joints (6) between platter mat surface and arm board surface. The 'table can accommodate two tone arms.
In addition, the motor frame, speed sensor frame, damping disc and main arm board are part of the chassis structure. The large, circular main arm board features a single socket head cap screw that allows for easy and accurate adjustment of tone arm pivot to spindle distance.
During the meeting OMA's Jonathan Weiss outlined the design's origin and gestation, some of which I was familiar with having run into at Munich High End 2018 Richard Krebs, the New Zealand-based chief designer who is a highly accomplished hydraulics engineer. We shared turntable design ideas, which for me was both absurd, given his accomplishments and skill set, and extremely flattering given mine.
The massive K3 is a no-nonsense piece of industrial machinery, that no doubt in its final completed design will be a ruggedly handsome looking piece of hi-fi kit. Weiss showed me photos of the final optional and recommended stand upon which the turntable will rest and he outlined how the 'table will be sold: with a proprietary Frank Schröder designed and built tone arm and a special Soundsmith moving iron cartridge, though of the course buyers are free to use the arm(s) and cartridge(s) of their choice.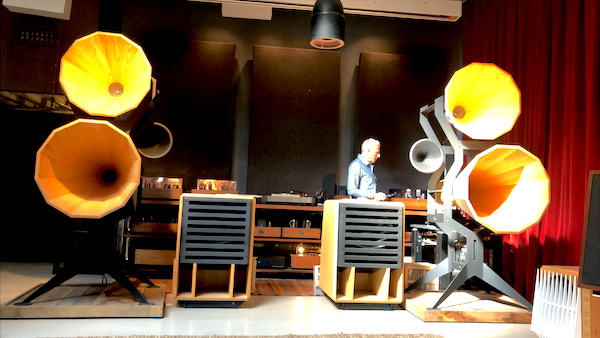 Heard in the above system, the turntable fitted with an exisiting Schröder arm and Soundsmith Hyperion cartridge, was formidable: rock solid, and in the case of some German Lieder, sounded as life-like and non-mechanical as the finest all-acoustic recording and reproduction I've heard, only more convincing. A Ravel piece with the Paris Conservatoire Orchestra conducted by André Cluytens had rhythmic drive, weight and spatial consistency that another direct drive turntable we listened to couldn't come close to matching.
The K3's final cost has yet to be determined but I'd estimate more than $200,000.
<!- ------------------------------------>