Pro-Ject Debuts New X-8 Lower Cost Mass Loaded Turntable Borrowing Features From X9/X10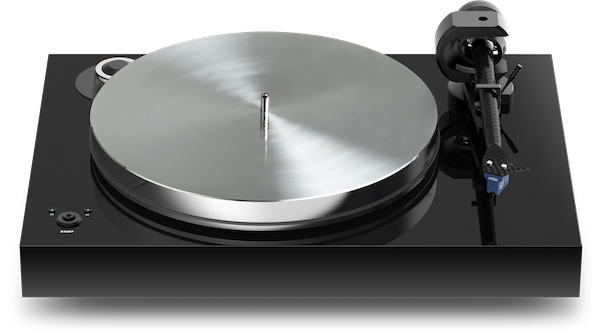 Pro-Jet just announced the new X-8 turntable that utilizes features found in the more costly Extension 9 and 10 models. The X-8 costs € 1,999 (incl. VAT). With Ortofon Quintet Blue € 2,299 (incl. VAT). In America the X-8 with Sumiko Rainier standard costs $2499. Read on!
The X-8 is a 33 pound turntable featuring an 11.25 pound machined aluminum platter, height adjustable feet, an inverted ceramic ball, magnetically supported bearing, electronic 33 1/3/45 rpm speed control, 9" one piece carbon fiber arm, premium 5P semi-symmetrical RCA phono cable and optional balanced XLR cable, plus dustcover and optional finishes: walnut, high gloss piano (shown) and high gloss white.
The X-8 features the familiar "slip mat" in place of glued on vinyl mats found in the higher priced Pro-Ject's and well as new non-magnetic feet that are TPE damped. You save money and can play with mats and of course feet (yours, someone else's, or the ones on the turntable or all of them). The MDF chassis and Pro-Ject 9cc EVO arm used in more costly Pro-Ject turntables are here at an aggressive price point.
<!- ------------------------------------>