SweetVinyl SC - 1 and SC - 2 Up And Running At C.E.S. 2017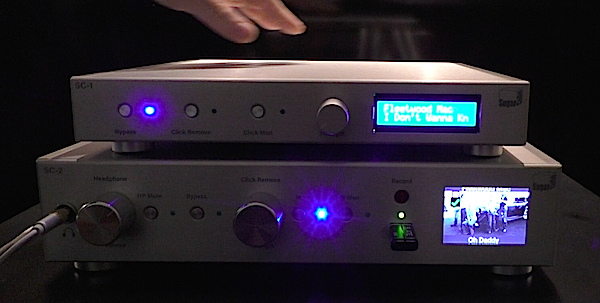 AnalogPlanet has covered the design and development of these two unique products since they were in the breadboard stages. The are finally ready for production and sale.
The SC-1 is 192/24 bit ADC/DAC that includes a switchable and very effective "non-destructible" pop and click remover as well what's claimed to be a transparent "pass through".
The SC-2 is a far more sophisticated "full service" vinyl ripping device that includes both the SC-1's functionality as well as an online metadata retrieval system (and much more).
For instance, I played a vinyl-ripped track from my USB stick and it correctly identified it and the Frank Sinatra album from which it came.The back panel indicates a "full-service" device" with Ethernet, USB and HDMI connectivity. There's also a built-in headphone amp with front panel volume control.
In addition to this new video featuring SweetVinyl principals Leo Hoarty and Dan Eakins, watch this previous show report as well as this one and you'll become a Sweet Vinyl expert!
<!- ------------------------------------>
| | | | | | | | | | | |
| --- | --- | --- | --- | --- | --- | --- | --- | --- | --- | --- |
| | Equipment Reviews | | The Gruvy Awards | | Blogs | Columns | | Show Reports | | News |