Footfall Fix For Cheap!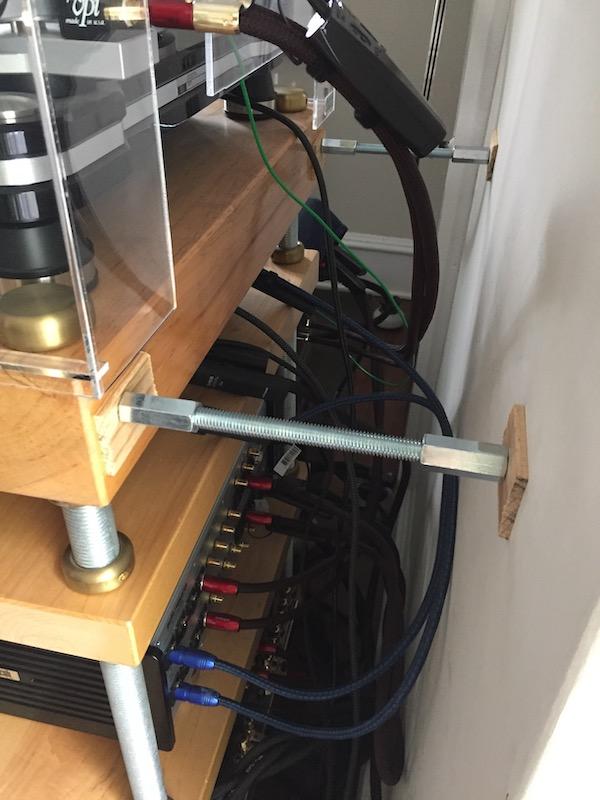 Few things are more annoying to record lovers living in a home (particularly an older one) with a floor that flexes and causes records to skip as you attempt to carefully move around the room. The first thought is to buy a sturdier, more massive equipment stand but that doesn't work!
I found that out in my first apartment. I had a VPI TNT stand—a solid and massive device that received added mass when I filled the legs with sand and lead shot and the arm still skipped!
The photo shows the solution (assuming your stand is reasonably close to a wall). Simply buy a few proper length threaded rods and open ended bolts and expand until the assemblage presses firmly against the stand and the wall. That will "ground" the stand to the wall and stop it from wobbling. As shown, it's a good idea to put pieces of wood between the bolts and surfaces to spread the pressure and avoid damaging either the wall or the stand.
Do this for a few bucks and the skipping will stop! Then, with the money you save, buy a new stand. Lol.
<!- ------------------------------------>
| | | | | | | | | | | |
| --- | --- | --- | --- | --- | --- | --- | --- | --- | --- | --- |
| | Equipment Reviews | | The Gruvy Awards | | Blogs | Columns | | Show Reports | | News |