A Chance Encounter at AXPONA 2019 With Sonic Presence President And Industry Veteran Russ Hamm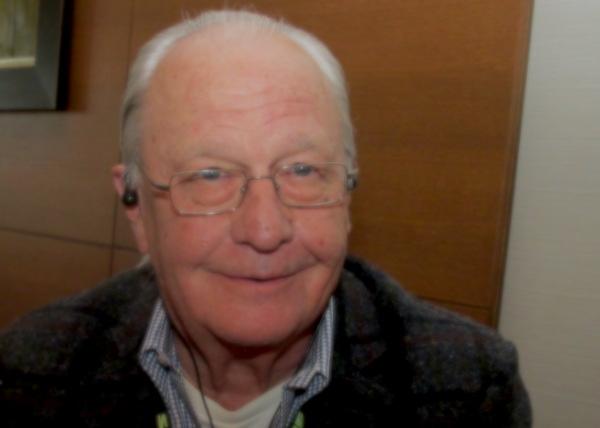 At AXPONA 2019 Western Electric's Charles Whitener introduced me to Russ Hamm, president of Sonic Presence, a company that manufactures the VR15-USB Spatial Microphone™ a headphone-like in-ear microphone system that turns your head into a virtual "dummy head", which for some of us is easy! While that was interesting, it was Mr. Hamm's earlier experience as president of Gotham Audio in New York that got my interest.
Gotham was a pro audio company that in its heyday imported Neumann lathes and cutting systems— the SX-68 and SX-74—as well as Neumann microphones, EMT plate reverbs etc. Gotham's ads in the back of the audio magazines of that time (Audio, Stereo Review, etc.) listed some of the storied brands and the Neumann image somehow stuck with me from all those years ago.
Hamm's background is impressive:
Before founding Rainbow Broadband in 2004 he founded Qmedia, a farsighted company that took advantage of broadband opportunities for media customers using the then newly built national fiber infrastructure, establishing network technology that is currently used by ABC, CBS, NBC, ESPN and FOX. Prior to that, he collaborated with Bell Labs on large-scale digital systems for music and film. He's twice received the Audio Engineering Society Board of Governors award for outstanding service. He is a member of the Recording Academy, Society of Motion Picture and Television Engineers and the Institute of Electrical and Electronic Engineers.
He assumed the presidency of Gotham and bought it in 1986 from its founder Stephen F. Temmer, who passed away in 1992 at age 64. Temmer too had an interesting history: as a studio engineer, he was involved in the tape recording and editing of shows such as Groucho Marx, Martin and Lewis, Bing Crosby, Milton Berle and Meredith Wilson. He was also responsible for making the first tape recordings of the Metropolitan Opera for broadcast in 1948. He recorded "Edith Piaf at Carnegie Hall" in 1957 when he produced the album and cassette for Pathé-Marconi EMI.
I figured an interview with Hamm would be interesting and of interest to AnalogPlanet readers and I think it will be, though I could tell he was somewhat skeptical of vinyl and does't share our enthusiasm for it. He's been out of the vinyl "loop", that's for sure, since, when he saw the vendors selling all of that new vinyl he was kind of surprised.
We spoke in a crowded Renaissance, Schaumburg Convention Center hallway but the video came out well so here it is. As you'll see and hear, he "knew them all (or at least many of them!)":
<!- ------------------------------------>