The Hana EH Cartridge Sweepstakes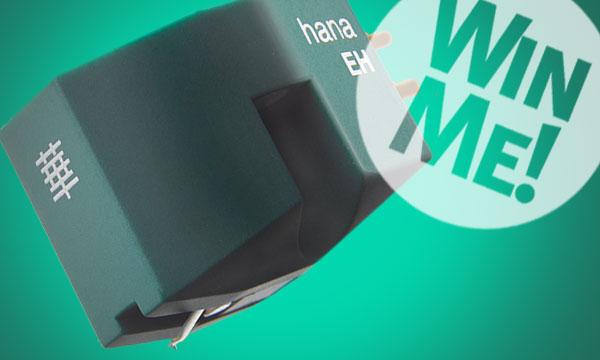 Register to win a Hana EH Cartridge (Total value $475.00) we are giving away.
About the prize:
The Hana EH cartridge is a high-output moving coil (MC) cartridge that comes in a moss-green body, weighs 5g, and houses a cross-coil generator. The synthetic elliptical stylus is mounted to an aluminum cantilever. Specs for the Hana EH include a vertical tracking force of 2g, trackability of 70µm/2g, and suggested load impedance of >47kƱ. The Hana EH is also plug-and-play-compatible with MM phono stages found in integrated amplifiers and A/V receivers.
Click here for more info about the Hana EH Cartridge.
---
To enter the sweepstakes, all you need is an account on this website. If you don't already have one, click on the link labeled "register" at the bottom of this announcement or "LOG IN/JOIN" in the nav bar at the right. Then, enter a username and a valid e-mail address, and click on the "Create new account" button. A message will be automatically sent to the e-mail address you specified, which will include a link to activate the account.
The final step (and only step for those who already have an account) is to log in and leave a comment right here on this announcement—any comment will do, as long as it's not profane or spam (feel free to tell us the name of your favorite record store/vinyl shop, where it is located, and why you love shopping for vinyl there!). Then, when the sweepstakes closes, a lucky commenter will be chosen at random to receive the prize. So post a comment, and good luck!
For complete sweepstakes rules, click here.
[This Sweepstakes is now closed.]
<!- ------------------------------------>