Yes, You Can Replace Rotting Speaker Surrounds!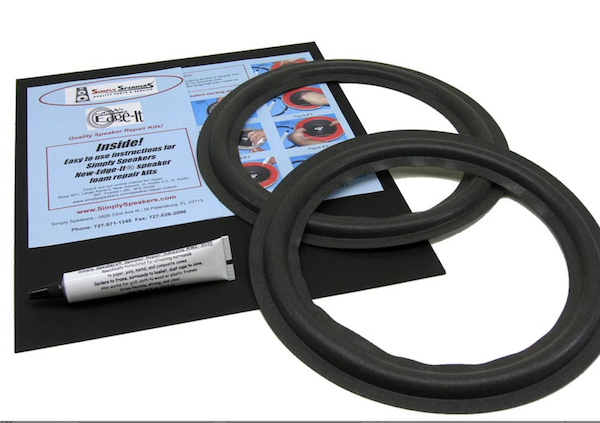 Recently my mother-in-law's good friend needed to sell her late husband's audio gear and record collection so I went over to see what was there. She had a mint Denon DP-59L turntable fitted with an ADC XLM MKII cartridge, a Panasonic SA HE100 AV Control receiver and a pair of Boston Acoustics A100s, big floor stander two ways.
The receiver has little value (under $100 on Ebay, though it appears very well made and reasonably powerful), the speakers also weren't worth much and would be a pain to ship and the turntable and cartridge should fetch about $700.
I was able to sell the turntable to a friend but nobody wanted the other stuff so I told her I'd offer it to my neighbor's kid. She was good with that. The records were mostly big band 50's stuff. Good music but not collectible and mainly mono. I told her "Goodwill".
The speakers looked to be in perfect condition in her air conditioned lower level. I had no other place to store them but in my hot, humid garage, where I'd planned to keep them for a day. By the next day when I removed the grills I noted that the surround on one woofer had just about melted and fallen away from the cone.
So I went online and found SimplySpeakers.com. The site has replacement foam surrounds, replacement cones and replacement speakers plus a lot more. I ordered the surround kit for under $30 and a few days later it arrived.
The repair was quick and easy, the instructions excellent. The key is to carefully remove all of the old adhesive leaving a smooth surface. Prep time was the longest but as with car body work, it always pays off. It was easy to glue the new foam surround first to the cone and after an hour dry time, then the surround's outer lip to the basket. Within a few hours it had sufficiently dried to play. Sounded great! The neighbor hauled off the speakers and the kid's thrilled. He's got a turntable.
It's easy to recommend SimplySpeakers.com so I am.
<!- ------------------------------------>